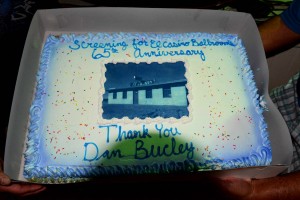 So it's over, and it's not.
"Tucson's Heart and Soul: El Casino Ballroom" is finished and made its premiere.
Most documentary makers pack up their cameras and head on to the next gig. And to a large extent, I am too, beginning work on the film on Tucson's mariachi scene.
But it's almost impossible for me to put El Casino Ballroom in the rear view mirror entirely. People still are coming out of the woodwork with stories that should be captured, even if they didn't find their way into the film.
I had a woman call me a day before the premiere who snuck out of her house to see Fats Domino there as a teen. Someone else told me at the show about sneaking out to see a Mexican singer at El Casino. His parents had gone to see that show, so he sat outside listening through the open door, then ran home near the close of the show so he wouldn't get caught. "How was the show?" he asked his parents when they returned home.
Logistically there's still a fair amount of work to do too before I turn the raw footage and transcripts over to the Arizona Historical Society. I need to go through the transcripts with my associate producer, Ralph Gonzalez, to make sure that all the spellings are correct and that we've tacked on any additional information someone might need later on.
I also need to go through all of the photos, ID those who I can and distinguish what amongst them are my shots and which came from other sources. It will take several months to do that.
And at the moment there's the more mundane chore of syncing main drives to backups to make sure that every file has been accurately duplicated.
El Casino Ballroom has always been a community center, and I'm trying to treat these materials as though they are community property. I want others to be able to use them, with permission, in projects they will create in the future.
And my commitment to El Casino Ballroom's future is solid. I've joined the committee to create a new fiscal entity called the El Casino Cultural Center, which will work with the ballroom to make it an educational and cultural hub for the city. In turn that will help restore it to its former size and build in a few new features that will put it on track to evolve into whatever the community needs in the future.